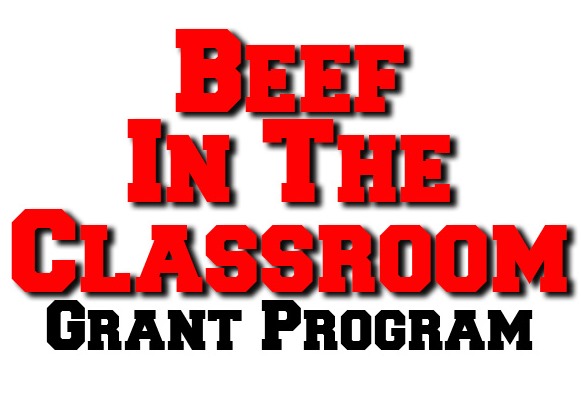 Beef in the classroom grant program
2017-2018
Purpose
Beef in the Classroom is a grant program for family and consumer sciences classes. The purpose is to provide financial support for the use of beef products in these classes. It reinforces lessons about lean beef selection, storage, preparation, nutrition and food safety. The workbook will be available again in limited quantities. If we run out, it will be available online through Nasco.com.
Guidelines
Beef in the Classroom funds are provided to FACS teachers of foods/nutrition or related courses, specifically teaching a unit on BEEF.
Funds are available to middle school, junior and senior high school classes.
Must present documentation of cooking methods used and/or discussed. Include the beef recipes prepared in class in this documentation. Receipts or copies of receipts must be presented with Evaluation Form as soon as possible after the unit is completed.
Grant money may be used for the purchase of beef products and ingredients that are needed to complete the recipe or dish.
Grant must be used by the end of the 2017-2018 school year (exceptions may be allowed, but money will be distributed this school year).
One grant/teacher/school year.
Procedures
Only FACS teachers are eligible for the grant program.
The grants are available on a first come, first served basis. Requests will be accepted starting on October 9, 2017 at 8 a.m.
EVALUATIONS must be submitted by June 30, 2018 to be eligible for the program in 2018-2019 (Exceptions may be allowed).
After beef unit is completed, a copy of receipts for beef purchases and teacher evaluation form must be filled out as soon as possible. Receipts can be downloaded with evaluation online.